Short to Long-term Strategy for Winning Business Online.
This content is most relevant to Irish SEM's that are looking to target export markets. Specifically the B2B Enterprise Software Market in the US but it can be related to anywhere in the world. If you are looking to generate leads for your sales team and win new business this is a simple yet very effective strategy.
1. Google Keyword Planner
Google AdWords Keyword Planner is a keyword research tool that allows you to find the right keywords to target. It will give you data on the highest searched keywords related to your business.
2. Moz Keyword Explorer
Like Google AdWords Keyword Planner, Moz Keyword Explorer allows you to discover and prioritize the best keywords to target. It provides keyword search volumes, suggestions and SERP analysis.
3. Moz SERP Analysis
Review the organic listings on page one of Google to identify any opportunities for PPC and PPL partnerships. (If you didn't already know SERP standards for Search Engine Results Page).
Let's conduct an analysis for
ERP Software

.
Step 1 Google Keyword Planner
Enter your chosen keywords into the Get search volumes data and trends box. Select your desired country then click get search volumes. A Google AdWords Account is required to use this tool. In this example, we are specifically looking at search volumes for specific keywords. Google AdWords also offer other tools such as Search for new keywords using a phrase, website or category.
In the sample results below, there is 3 key points to note.
ERP Software has a very high monthly search volume on Google in the United States with a monthly average of 14,800 searchers.
The competition for this keyword is high. This would suggest it has an inflated cost per click, it would also suggest this keyword is difficult to organically rank on Google.
The suggested cost per click bid for this keyword is high costing €45 from a Pay Per Click (PPC) perspective.
Based on this information let's jump to step 2 and 3 of this content. We can try to identify channels to market other than Google AdWords for ERP Software.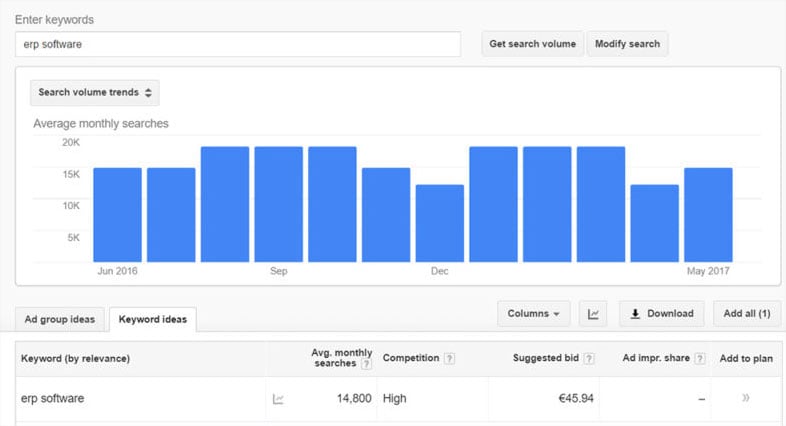 Step 2 - Moz SERP Analysis
Similar to the process above for Google AdWords Keyword Planner, Moz Keyword Explorer allows you to discover and prioritize the best keywords to target. It is very simple to use, simply enter your chosen keywords and in this example, ERP Software.
In the sample results, there is 3 key points to note.
Overview: This gives us a variety of information that can be used to make smart decisions. Moz Explorer provides an overview of Monthly Search Volume, Keyword Difficulty, Keyword Opportunities and Priority.
Keyword Suggestions: This aspect of the software tool provides further information for suggested and alternative keywords to target. This is important when conducting keyword research for new keywords to target.
SERP Analysis: We will discuss this in step 3
You will notice that Moz monthly search volume is 6.5K to 9.3K yet Google Keyword Planner is 14,800 monthly searchers. This is one of the main reasons why using two keyword tools is a clever idea, as it will give you more insight into actual search volumes.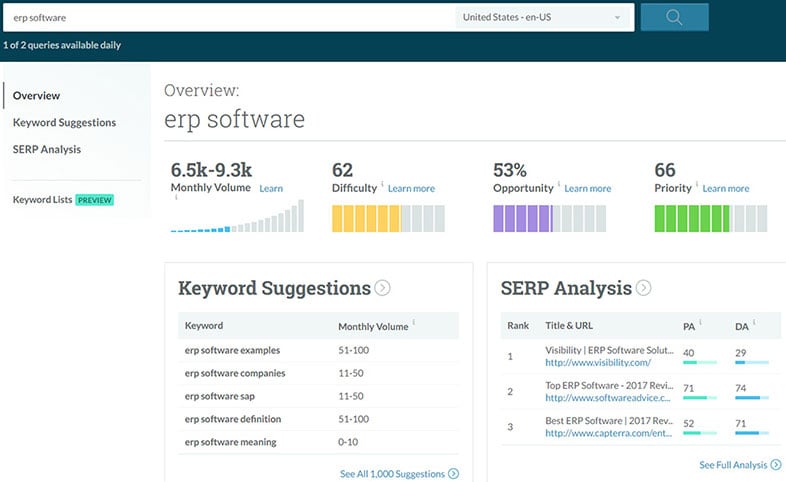 Step 3 - Moz SERP Analysis (The interesting part)
Now that we have identified our target market, keywords, and know the search volumes per month. It's important to review the top organic listings on Google to see who is in the top positions for the keywords. This is when we will identify potential business partners in the United States. (remember this can be related to anywhere in the world, we just happened to choose the US for example purposes).
Partners may include and offer the following services:
Pay Per Lead (PPL) Suppliers
Pay Per Click (PPC) Directories
Vendor Directory Sites
The Results
At this point in the process. You need to research each website and identify the type of business each one is. Are they a competitor offering ERP Software? OR, are they a potential partner offering PPL, PPC or Vendor Directory Listings? If so, then you need to contact these organisations and discover the Lead Generation (LeadGen) services they offer.
Think of it like this – if a PPL or PPC Software provider is organically ranked in the top positions on Google for keywords with potentially 14,800 searches per month. You can be very sure, they're also ranked very highly for other competitive keywords. This is a serious business opportunity for your organisation to gain access to their web traffic through paid partnership.
OK, so this literally took five minutes and we identified two partners. Remember, these websites must be getting seriously high volumes of relevant organic traffic each month. This is even without analysing their paid advertising campaigns.
Software Advice Position #2: These are a Pay Per Lead (PPL) supplier. Software Advice match buyers to sellers. They are relatively cost-effective, provide very good prospects and real buyers with purchase time-frames.
Capterra Position #3: These are a Pay Per Click (PPC) software directory site. They have the exact same business model as Google AdWords. You bid per top position and pay per click.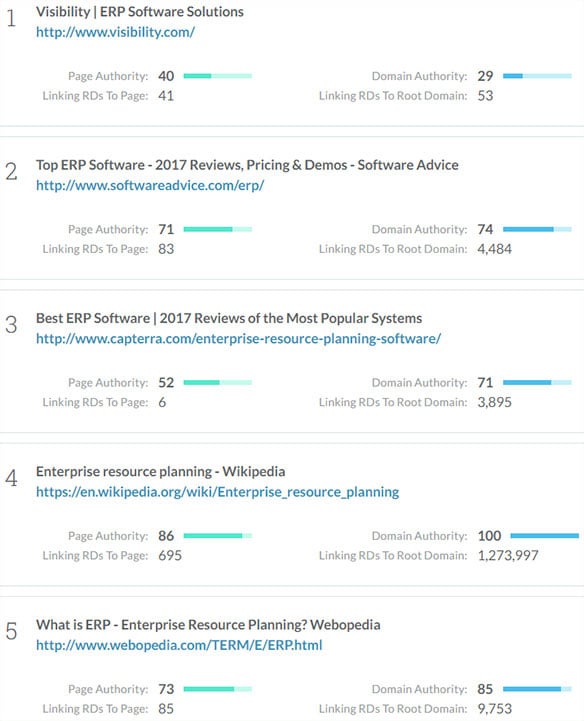 GrabSome Short to Long-term B2B Strategy
GrabSome can fast track your business in export markets by using the correct software tools and data analysis. GrabSome have in-depth knowledge of the B2B Sector and can help your organisation win new business through Market Research, Pay Per Click and Pay Per Lead Generation.